1.SERVER
Every Organisation needs Originate Server infrastructure for satisfying present business requirements and trends. In Rajsri Computers, We have expertise environment that will ultimately run critical application servers as possible. Having best server technology has major benefits.
Having a server for your need opens avenue of possibilities. You get to be the administrator of the server giving you absolute control over it to install and configure programs as you like.
Enhanced security would be an understatement with dedicated servers. The server in dedicated hosting can be equipped with extra security layers for added protection from vulnerabilities.
The time for which the site wants accessible, that will live and running smoothly. Processor power, disk space, and memory are not shared with other sites ensuring significantly higher uptime.
There are direct benefits of having unique IP address to your site. In shared hosting, all the other websites on the server share the same IP address that will reduce the chances of cyber attacks since the hardware is not shared with other users who might be an attack target.
As a HP and IBM partner we have access best technology including:
Virtual Server Environment (VSE) is the front-end of HP's overall virtualization solution. It has management and workload management capabilities. It also comes with a product called HP Global Workload Manager (GWLM).
IBM has one virtualization type on their midrange, they are more efficient, more tightly integrated with hardware, better performing, and more reliable than other types of hypervisors.
3.NETWORK SOLUTION
HP Networking service modules host partner applications within the network infrastructure, Superior communication performance, reduced risk, plus optimal use of space, power and cooling with application service modules.
The HP Networking Specialization who develops applications or services those capitalize on integrated network capabilities for business advantage. Together we fortify security, reduce complexity, increase productivity, enhance quality of service, and more.
HP Virtual Application Networks SDN Controller and our market leading portfolio of Open Flow enabled switches.
IBM Business Solutions contains a set of enterprise Web applications built to run on the J2EE platform provided by IBM Web Sphere Application Server for IBM. The applications provide integrated solutions to common business needs that work with your existing applications, server components, and enterprise data.
The applications may use a directory supplied by IBM Directory Server for IBM i (LDAP) or by a Lotus Domino server with a new directory set up by the Web Administration GUI supplied by IBM HTTP Server.
4.CCTV SOLUTION
CCTV SURVEILLANCE SYSTEM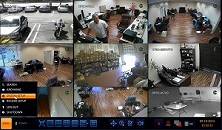 Our range of Closed Circuit Television (CCTV) has led the industry to new frontiers of design and performance. G4S takes pride in bringing the latest technology being introduced anywhere in the world to its valued clients.
HIGHLIGHTS
Cameras ranging from Analog to IP based
Long Range Cameras available
Night Vision Surveillance Solution
Video servers for long duration storage
Remote video management and storage
Event and alarm based recording for optimizing the bandwidth requirements
IP enabled DVRs with recording speeds varying from 50 FPS to 400 FPS
Integration with RAID systems for high performance, mega storage
Over 150 different products available to meet all kind of CCTV requirements
UL, FM, LPCB and CE approved.